New Delhi – Four children have been identified among the 16 passengers who died when an Air India Express flight crashed Friday in the southern Indian state of Kerala, an official said.
All sixteen were residents of Kerala, according to K Gopalakrishnan, a senior official for Malappuram district. A total of 18 people died, including two pilots.
Details from the flight manifest, released by Air India Express, showed that the youngest casualty was only one year old. The oldest passenger to have died was 61.
One of the victims has tested positive for coronavirus, according to Kerala's chief minister.The plane was one of the repatriation flights operated by the Indian government to bring back nationals stranded abroad due to Covid-19 travel restrictions, according to the Air India website.Flight IX-1344 crashed after skidding off the runway and breaking into two while landing at Kozhikode Calicut International Airport on Friday night local time.
People stand Saturday by the debris of the Air India Express flight that skidded off a runway while landing in Kozhikode, Kerala state, India.
A formal investigation into the crash be conducted by the Aircraft Accident Investigation Bureau (AAIB), Puri said.
The flight overshot the runway in rainy conditions, "went down 35-feet into a slope before breaking up into two pieces," he told CNN Friday.
Puri also offered his "heartfelt condolences" to the families and friends of those killedand wished the injured a speedy recovery.
Puri also offered his "heartfelt condolences" to the families and friends of those killed and wished the injured a speedy recovery.
What do we know about the crash?
Flight IX 1134 was carrying 184 passengers, including 10 infants, and six crew when it attempted to land at the airport in Kozhikode, formerly known as Calicut.
Read More|| Beirut blast: Frantic search for survivors of deadly explosion
The Boeing 737 aircraft crashed at 19:40 local time (14:10 GMT) on Friday. Indian media said the pilots could not see the runway during a first attempt at landing due to heavy rain.
When they did touch down, the plane is said to have landed 1,000 metres beyond the threshold of the runway before skidding off and sliding into a ditch.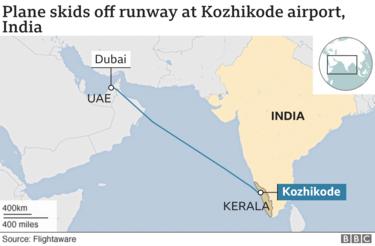 The impact broke the plane in two. Images from the scene showed the fuselage shredded, with the blue seats from the jet scattered along the ground.
Kozhikode has a table-top airport, a challenge for air crew during difficult landings as they typically have steep drops at one or both ends of the runway.
Both the pilots were among the dead. Nearly 150 people are being treated in hospital.
---